Afghani Bolani
Bolani is a delightful stuffed flatbread that could be filled with all sorts of tasty things. Spiced potatoes, lentils, onions and leeks are common, but for special holidays meat can also be used. Whatever the variation, it is a yummy dish that could be made easily and quickly for lunch or dinner and served on its own or with a dip or two. It can also be an accompaniment to a more substantial meal.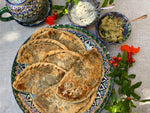 Prep Time
1 hour 15 minutes
Yield
12 filled flatbreads
Ingredients:
For the dough:
3 cups (450g) Sequoia flour
2 teaspoons (10g) salt
1 cup + 2 tablespoons (240g) water, warm
For the filling:
5 medium-large Yukon Gold or red potatoes, unpeeled, cubed
4 bunches green onions, finely minced
2 generous bunches fresh cilantro, chopped
All of the Spice Mixture
For the Spice Mixture:
1 large yellow onion, finely chopped
2-3 garlic cloves, finely minced
1 teaspoon (2g) dry coriander powder
1 teaspoon (2g) freshly ground black pepper
1 teaspoon (2g) Chili flakes, or to taste, optional
1 teaspoon (2g) ground cumin, optional
½ cup potato water or plain hot water
Salt to taste
2-3 tablespoons vegetable oil
Instructions:
To make the dough:
Stir together flour and salt.

Add warm water and mix with a fork.

Knead by hand for a few minutes until the dough is smooth and supple. The dough may seem a little dry but do not add any more water. Once all the water is fully absorbed, it will be quite pliable.

Shape into a ball, cover with plastic wrap, and set aside for 40-60 minutes to let the dough fully hydrate and relax.
To make the filling:
Boil and drain the potatoes, saving the water. Mash with a fork, leaving some texture. Cover and set aside to cool.

Prepare the Spice Mixture: fry the onions in oil until golden-brown.

To the same skillet add the spices: black pepper, ground coriander, and, if using, chili flakes and cumin.

Let the spices toast for 1 minute on medium-low heat. Keep stirring to prevent scorching.

Add the potato water. If not using potato water add plain hot water.

Add salt and let cook for further 3-5 minutes on low heat to let some of the water evaporate.

Take off the stove and let cool for a few minutes.

Add the Spice Mixture to the mashed potatoes.

Add the minced green onions and chopped coriander.

Stir well.

Adjust the salt and let the filling cool. It is fine to use it when it's still lukewarm, as long as it is not hot.
To assemble the breads:
Turn the dough ball onto a lightly floured workbench or countertop.

With your finger, poke a hole in the middle, as if you're making a donut.

Start widening the hole, stretching the dough, until the "sides" of your "donut" are about 2" thick.

Cut the donut and stretch it into a "sausage." Divide the dough into 12 equal parts.

Working with lightly floured hands, shape each dough portion into a small ball.

Using your fingertips, flatten each dough ball into a disk.

Lightly dust the rolling pin and your work surface with flour and start rolling the disks into very thin circles about 11-12" in diameter. While working on one, keep the rest of the dough, both rolled and unrolled, covered with a tea towel.

Spread 2-3 tablespoons of filling on one half of the dough circle. Leave a ½-1" border at the edge to seal the flatbread.

Fold the empty half of the circle over the filling and tightly seal the two sides with your fingertips or a fork. Try not to leave any air pockets trapped inside.

Repeat with the rest of the dough.
To cook the breads:
Heat a 11-12" heavy-bottomed, preferably cast iron, skillet over medium heat on your stovetop.

Add 1-2 tablespoons of vegetable oil, let it heat and gently transfer 1-2 Bolani into the skillet.

Let fry for 3-4 minutes. Carefully turn the breads over and let fry for further 3-4 minutes, or until they look nice and golden.

Transfer to a serving dish lined with paper towels, to absorb the extra oil and keep warm.

Repeat with the rest of the breads, adding oil as needed.

Serve warm.