Blueberry Pie
Our friend Kate McDermott developed this exquisite yet very accessible pie recipe in the late 1990s, while living on a u-pick blueberry farm in Washington State. The resulting pie has the perfect balance of textures and flavors: delicate, flaky, buttery crust wrapped around the lightly spiced, well-thickened blueberry filling. A decadent treat for your friends and family!
KATE MCDERMOTT
Recipe from Art of the Pie: A Practical Guide to Homemade Crusts, Fillings, and Life by Kate McDermott. Copyright © 2016 by Kate McDermott. Reprinted with permission of The Countryman Press/W. W. Norton & Company, Inc. All rights reserved.

Photos by Kate McDermott Copyright © 2021 All rights reserved.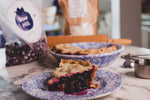 Yield
One 9-inch deep-dish pie
Ingredients:
1 recipe Metropolitan Market All-Butter Pie Dough
5-6 cups (790g) blueberries, fresh or frozen, unthawed
¾ cup (150g) sugar
A small grating of freshly ground nutmeg
⅓ teaspoon (2g) salt
1 teaspoon (5g) freshly squeezed lemon juice
1 tablespoon (15g) orange liqueur, or zest of one small organic orange (optional)
⅓ cup (73g) Organic Edison flour
2 tablespoons (24g) quick-cooking tapioca
½ tablespoon (7g) butter, cut into small cubes
1 tablespoon (12g) sugar, for sprinkling on top of the pie
Egg wash: 1 egg white + 2 tablespoons (30g) water, beaten with a fork
Instructions:
Make the pie dough according to the instructions. Set aside, refrigerated.

Preheat the oven to 425°F.

To make the filling, put the blueberries, sugar, nutmeg, salt, lemon juice, optional orange liqueur or citrus zest, flour, and quick-cooking tapioca in a big bowl, and mix lightly until the fruit is coated.

Roll out the bottom crust and place it in the pie pan.

Add the blueberry filling and dot it with little pieces of butter.

Roll out the remaining dough, lay it over the fruit, trim, crimp, and cut 5-6 vents on top. Alternatively, cut the dough into strips and weave a lattice top.

Brush the crust with egg white wash.

Bake for 20 minutes at 425°F (220°C). Reduce the heat to 350°F (175°C) and bake for 35 to 40 minutes more.

When there are 10 to 15 minutes of baking time left, open the oven, pull the pie out, and quickly and evenly sprinkle the top of pie with 1 tablespoon of sugar.

Close the oven and continue baking for another 10 to 15 minutes. Look for the steady bubbling of the fruit filling coming through the vents or latticework to make sure the filling is fully cooked.

Cool the pie before serving so the fruit filling can set.