Dinner Rolls
In the words of Sean Hughes himself: "This holiday season, I would like to share my bun dough recipe in all its versatile modesty. For the purposes of a feast and all the trimmings, I make this dough into pull-apart style dinner rolls. Don't stop there though, this dough also makes fantastic hamburger, hotdog buns, and hoagie rolls! For dinner rolls, I pan the little dough balls up in a tight grid so they all proof together and bake into one big quilt-like mass. Keep the rolls together until service, at which point they can be pulled apart exposing the soft buttery sides, with only the top having a gentle crust – a perfect vehicle for your culinary heart's desire!"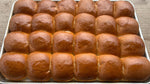 Ingredients:
For the dough:
3¾ cups (564g) Glacier Peak bread flour
1 cup + 2 tablespoons (188g) Organic Edison all-purpose flour
1¾ cups (428g) water, at room temperature
5 scant tablespoons (68g) butter, unsalted, soft
1 large (53g) egg, at room temperature
4 3/8 tablespoons (55g) sugar
3½ teaspoons (11g) Red SAF yeast or another instant dry yeast of your choice
2 teaspoons (13g) sea salt
For the egg or butter wash:
1 egg OR
1 stick of butter, melted
Instructions:
In a mixing bowl of an electric stand mixer, combine all ingredients except salt.
Mix on low speed until all ingredients are moist. You may need to scrape down the sides with a rubber spatula.
Cover the bowl with a plastic wrap and let autolyse for 15 minutes.
After 15 minutes have passed, mix on 2nd speed for 2 minutes, add salt and mix on 3rd speed for 3 more minutes. At that point, the dough should come away from the bowl.
Place the dough in an oiled container, cover with plastic wrap, and let rise for 60-90 minutes, until doubled in size.
After the first proof, place the dough on a lightly floured work surface and portion into 24 pieces 57g (2oz) each. Roll each piece into a firm ball, cover with plastic wrap, and let rise for 30 minutes.
Oil or butter a large rimmed baking sheet. Alternatively, you can line it with baking parchment.
After 30 minutes have passed, reshape each piece of dough into a tight ball (be careful not to tear the dough!) and place in a 4X6 pattern on your prepared baking sheet.
Proof in a warm area, gently covered with a damp tea towel cloth to prevent drying. Rolls should double in size and expand into each other. They are ready to bake when they hold a gentle dimple.
Preheat the oven to 350F with a baking rack positioned in the center of the oven.
Once the rolls have proofed, prepare for baking: If using an egg wash, lightly whisk the egg with a fork and use a soft brush to paint the tops of the rolls. Alternatively, if using butter, melting it and, once cooled off, spray it out of a kitchen sprayer bottle or use a soft brush to paint the tops of the rolls. If you like, you can also dust the tops with flour.
Depending on the oven, bake for 20-30 minutes. Halfway through the bake, rotate 180°F for an even bake.
Remove from the oven, transfer to a wire rack and let cool a few minutes before serving.