Finnish Pecan Butterballs
These slightly sweet, soft pecan balls are a joy to mix and prepare – all in a jiffy. Thanks to our Organic Edison, they come out very delicate and light. Their enticing buttery, nutty aroma and flavor will keep your guests reaching for just one more.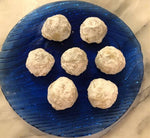 1 cup (226g) unsalted butter, softened
4 tablespoon (57g) sugar, white granulated
1 tablespoon (13g) vanilla extract
2 cups (284g) Organic Edison flour
1 pinch of salt
2 cups (226g) chopped pecan pieces
In a bowl of an electric stand mixer, using paddle attachment, cream butter and sugar until light and fluffy, 3-5 minutes.

Add vanilla and stir in.

With mixer running on low speed, slowly add flour, mixing to incorporate.

Add pecan pieces and a pinch of salt.

With mixer still running on low, blend pecans into the dough until well blended.

With a 3/4 inch scoop, (20 g, or two teaspoonfuls of dough) shape into balls and place on a parchment-lined baking sheet.

Bake in 350°F oven for about 15 minutes.

Remove from the oven and gently roll warm cookies in powdered sugar.

Once the cookies are cool, roll a second time in powdered sugar.

Store in a tightly covered container to retain freshness.
---