Patty Pan Tortilla
Here is the secret recipe for the tortillas in the grilled vegetable quesadillas that Patty Pan Cooperative has been slinging at Seattle-area farmers markets for many years. The Expresso flour is the star, adding a hearty, nutty flavor to a tortilla that stands up to just about anything you want to pile on top of it.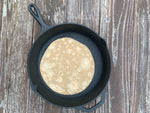 Yield
8 tortillas, 8"-10" in diameter
Ingredients:
2¼ cups (324g) Expresso Bread Flour plus more, if needed
1 (5g) teaspoon salt
1 (220g) cup water
1 tablespoon (12g) olive oil
Instructions:
In a medium-size bowl, mix together the flour and salt.
In a separate bowl, mix the water and olive oil.
Add the wet ingredients to the dry ingredients and knead together to make a dough, adding a little bit more flour at a time, if needed.
Divide the dough into 8 equal-size balls.
Roll out each dough ball as thinly as you can without tearing it.
Preheat a lightly oiled skillet on medium-low heat on your stovetop and cook the tortilla until lightly browned but not brittle, about a minute on each side.
Repeat with all remaining tortillas.
Serve with your favorite choice of toppings.