Sourdough Popovers
These popovers are surprisingly quick to put together and are equally great for a snack, a sweet treat smeared with jam and farmer's cheese, or alongside a juicy, savory roast. The sourdough discard gives them an extra layer of complexity and acidity. The key to popover success is to not open the oven for the duration of the 30 minute baking period. These are essentially little souffles, and will collapse and be dense and gummy if exposed to a draft while they are puffing up and setting. The nutty, buttery flavor and tender, light texture of the Edison flour shines beautifully here.
Credits: Jennifer Latham, Director of Bread, Tartine Bakery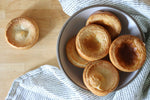 Ingredients:
1¼ cup (305g) whole milk, room temperature
2 large (130g) eggs, room temperature
1 ½ teaspoon (5g) kosher salt
½ cup (100g) sourdough discard
1 tablespoon (14g) melted butter for the batter, plus 1-2 tablespoons melted butter for the muffin tin
¾ cup (104g) Organic Edison all-purpose flour
Instructions:
Preheat the oven to 425°F. Prepare a muffin tin by brushing the cups generously with melted butter.
Add the milk, eggs, and kosher salt to the jar of a blender. Blend for about 20 seconds on medium, until smooth. Add the sourdough discard and blend for about 10 seconds more. With the blender running, trickle in the melted butter.
Add the flour to the blender and blend for about 20 seconds, until very smooth and a little frothy.
Pour batter into each of the muffin tins to fill about ¾ of the way.
Place the muffin tin carefully in the oven (I usually put an empty sheet pan on the lowest rack, underneath the muffin tin, just in case butter spills over, so I don't get a messy bottom of my oven.)
Set the timer for 15 minutes. Honestly, I put a piece of painter's tape over the top edge of the oven door at this point so no one accidentally opens it.
After 15 minutes, turn the oven down to 350°F but don't open that door. Set the timer for 15 minutes more.
After 30 minutes, you can open the oven. If they're golden brown on top, you can remove them, otherwise bake 5-10 minutes more, until golden-brown.
Remove from the oven and carefully remove the popovers from the tin. Eat immediately.