Spiced Rye Tea Cake with Pear
This is a lovely seasonal cake that comes together easily. Since it is full of fruit and whole grain rye flour, it's a great pairing with a cup of black tea or coffee for a morning snack. Only bake this cake if you want your whole house to smell like autumn for a few days.
Jennifer Latham, author of "Baking Bread with Kids"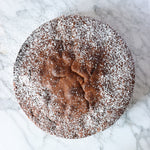 Total Time
1 hour 45 minutes
Yield
One ten-inch cake, approximately 12 slices
Ingredients:
1 ½ cups (from 1-2) firm pears, such as French butter, diced ½"
2 tablespoons (25g) brown sugar
2 teaspoons (6g) ground cinnamon
¾ cup (113g) Organic Edison all-purpose flour
2/3 cup (79g) whole grain Gazelle rye flour
1 teaspoon (4g) baking powder
1 teaspoon (2g) ground cardamom
1 tablespoon (8g) ground cinnamon
Pinch nutmeg
1 teaspoon (6g) fine sea salt
1 cup + 2 tablespoons (225g) granulated sugar
1¼ cups (293g) softened butter, at room temperature
4 large eggs
1/3 cup (75g) heavy cream
1 teaspoon (4g) vanilla extract
Powdered sugar to finish
Instructions:
Toss pear cubes with the brown sugar and 2 teaspoons cinnamon and set aside.
Preheat the oven to 375° Prepare an 10-inch round cake pan by buttering the inside and lining the bottom with a round piece of parchment cut to size or a reusable silicone cake pan liner.
Sift together the Edison flour, rye flour, baking powder, remaining spices, and sea salt. Add the sugar and whisk to combine.
Put the all the dry ingredients and the room temperature butter in the bowl of an electric stand mixer fitted with the paddle attachment. Paddle on medium-high for about 3 minutes, until light and fluffy. Pause a few times to scrape the bottom and sides.
Add the eggs one at a time, mixing well between each addition. After all the eggs are added, mix on medium until everything is well combined.
With the mixer running on slow speed, slowly pour in the cream and vanilla extract and mix on medium until well combined.
Remove the bowl from the mixer and use a spatula to gently fold the pear and brown sugar mixture into the batter.
Scrape the batter into the cake pan and bake for about 60-75 minutes, until the top is well browned and a cake tester inserted into the center of the cake comes out clean.
Let cool for about 1 hour in the pan, then remove from pan and let cool the rest of the way on a wire cooling rack.
Use a fine-mesh sieve or a shaker to sprinkle powdered sugar around the edges before serving.