Armenian Lemon Oil Shortbread
When our dear friend Jerilyn first tasted Armenian Lemon Oil by Boyajian, she was mesmerized by the depth of flavor, aroma and irresistibility. Having tested several fresh sauces with these citrus oils, she decided to try their Armenian Lemon Oil Shortbread. The flavor and texture created a "Wow" experience. Enjoy mixing, baking, tasting and serving this special shortbread cookie!
Adapted by Jerilyn Brusseau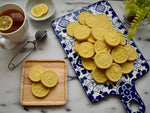 Total Time
1 hour 30 minutes
Ingredients:
1 cup (227g) unsalted butter, at room temperature
½ cup + 2 tablespoons (125g) granulated sugar
2¼ cup (328g) Organic Edison flour or 2¼ cup (315g) Sequoia flour
¼ teaspoon (1.2g) fine sea salt
2 teaspoons (8g) Boyajian lemon oil
Yellow or white sanding sugar for decoration, as needed
Baker's Notes:
You can buy lemon and several other citrus oils and flavorings at Boyajian.
Instructions:
In a bowl of an electric stand mixer, cream together the butter and the sugar for 3-5 minutes or until light and creamy.

Combine flour and salt in a small bowl.

Slowly add the flour mixture into the sugar and butter.

Add the lemon oil and continue to blend until the dough forms around the paddle. Pay attention to not overmix the dough to maintain its delicate texture.

Place the dough in between 2 pieces of parchment paper. Using a rolling pin, roll out the dough to a thickness of ⅜ inch.

Place the rolled dough on a sheet tray and chill for an hour or overnight.

Preheat the oven to 350°F, with the rack positioned in the center of the oven.

Once the dough has chilled, peel the parchment paper off the bottom and top to release the dough from the paper.

Using a (1-1½ inch) floured fluted cookie cutter, cut out the cookie dough and place onto a parchment or Silpat-lined baking sheet spaced at least 1 inch apart.

Sprinkle the top of each cookie evenly with the sanding sugar.

Bake in the oven for 9 minutes. Do not brown.

Let cool completely on the sheet tray before serving.
Baker's Notes:
You can buy lemon and several other citrus oils and flavorings at Boyajian.