Toasted Sesame Seed Sequoia Sandwich Loaf
These pan loaves have a smooth, creamy, moist crumb and a beautifully caramelized golden crust. Thanks to the relatively high proportion of bran and protein in our Sequoia, they have a slightly sweet and nutty flavor, further accentuated by the addition of sesame seeds. This bread slices beautifully and makes lovely toast or grilled cheese sandwiches.
BY: JERILYN BRUSSEAU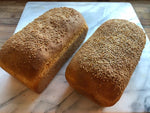 Yield
2 pan loaves of 550g each
Ingredients:
3 envelopes (21g) active dry yeast
1¼ cups (283g) warm water at 95-105°F
2 tablespoons (42g) honey at room temperature
1/3 cup (75g) butter, unsalted, softened
1 cup (226g) milk
3 cups (432g) Sequoia all-purpose flour
1¾ teaspoons (11g) salt
3 cups (432g) cups additional Sequoia
2 tablespoons sesame seeds, toasted
2 tablespoons sesame for tops of loaves
Baker's Notes
If you happen to have a kitchen thermometer, this bread is ready when the internal temperature of the loaves reaches 195-200°F, after about 48-50 minutes of baking.
Instructions:
In a medium skillet over medium heat, heat 2 tablespoons sesame seeds until golden brown and fragrant, stirring occasionally, about 3-5 minutes. Remove from heat and cool completely.

In a small saucepan over medium heat, scald the milk. Let cool to lukewarm, about 10 minutes.

In a bowl of an electric stand mixer, sprinkle yeast over water. Stir in honey and let dissolve for approximately 5-10 minutes.

Using the dough hook attachment, add cooled scalded milk and softened butter. Mix briefly.

With the mixer running on low speed, slowly add the flour one cup at a time until all 3 cups are incorporated into the liquid.

Mix for 3 minutes on low speed.

Add salt, cooled sesame seeds. Then add 2.5-3.0 additional cups of Sequoia flour, one cup at a time, until a dough begins to form.

Sprinkle 2 tablespoons of flour over the dough and mix on medium speed for an additional 8 minutes, adding up to 1/4 cup flour as needed, until the dough leaves the sides of the bowl. The dough may be slightly sticky until the flour absorbs the moisture as the dough rises.

Place the dough in a buttered bowl, smooth side down, to butter top, then turn.

Cover the bowl loosely with a damp towel and place in a warm (75-85°F) draft-free place until the dough doubles in size—approximately one hour.

Punch down the dough, knead for one minute.

Put back in the bowl, cover, and let rise again until doubled in size again – approximately 45 minutes.

Punch down a second time. Turn the dough out onto a lightly floured board.

Divide the dough in half. Let rest a few minutes to relax the gluten.

Brush loaf pans with olive oil.

Shape into pan loaves as follows.

Lightly flour the top of your relaxed dough.

Using a bench knife, flip the dough over.

Fold the bottom up to the middle. Then fold each side, left and right, over to the other to form what looks like an open envelope.

Then, grab the top and fold it up and down to just above the middle.

Using both hands, grab the new top and gently roll down into a long tube (imagine rolling down a beach towel or yoga mat)

Press the ends of the loaf to seal well.

Sprinkle 1 tablespoon sesame seeds on a clean towel. Gently roll the top of the loaf in seeds.

Place in an oiled loaf pan. Repeat with the second loaf.

Cover with a clean dry towel, let rise in a warm place.

When the dough has been rising for 60 minutes, preheat the oven to 375°F.

At 90 minutes of rising time, touch the loaf with your finger. If the fingerprint remains, it's time to bake. If it disappears, let rise for a few more minutes.

Bake until deep golden brown and loaf sounds hollow when tapped.

Cool on a wire rack for 30 minutes.
Baker's Notes
If you happen to have a kitchen thermometer, this bread is ready when the internal temperature of the loaves reaches 195-200°F, after about 48-50 minutes of baking.