Treasa's Irish Brown Bread
Our friend Kate McDermott shared this recipe and story with us. "In 2019, I spent a lovely week on Inis Mor, one of the Aran Islands off Ireland's west coast. I stayed at Kilmurvey House owned by Treasa Jones. Her hearty Irish breakfasts included warm slices of this delicious Irish brown bread. Treasa kindly shared her recipe, and I adapted it for Cairnspring Mills flours. Sequoia truly shines here."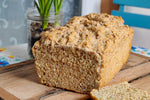 Total Time
1 hour 10 minutes
Ingredients:
3 cups (400g) Sequoia flour
¼ cup + 1 tablespoon (60g) Organic Edison flour
3/8 cup (24g) wheat bran or wheat germ
1 teaspoon (5g) baking soda
1 teaspoon (5g) salt
1 teaspoon (5g) brown sugar
2 tablespoons (30g) unsalted butter, melted, or sunflower oil
1 large egg
2 cups (414 ml) buttermilk
Instructions:
Grease a 2-pound loaf pan with butter or oil.

Preheat the oven to 300°F.

In a medium bowl, mix the flours and the wheat germ.

Sift (Treasa says "sieve") the baking soda, salt, and brown sugar and add to the bowl with the flour mix. Stir together all the dry ingredients.

In another bowl, beat the egg with a fork, add melted butter or sunflower oil, buttermilk, and mix until combined.

Add the wet ingredients to the dry ingredients and mix with your hands, spatula or spoon until just combined. It will be a wet mixture.

Turn into the greased loaf pan.

Bake for 50 minutes. Remove the loaf from the pan and return to the oven for 10 minutes to crisp up the crust.